EVENTS
20:12 - August & September 2012
Degreeart Execution Room
12 Vyner Street
London, E2 9DG
This year London will host one of the world's most iconic sporting events. The entire world will come together through their teams to compete and celebrate the passion and determination of their athletes. To celebrate, DegreeArt has invited twenty of Britain's most coveted athletes competing in the summer Olympics to work with twelve of our established and sought after artists.
Each athlete will pair with an artist(s) and through his or her dreams, ambition and individuality will display their discipline through diverse artistic mediums. 20:12 will mark one of London's most exciting games, and twenty of our British athletes will not only leave a sporting legacy, but will also be part of art history as well.
'Elvis In Art'
Michael's painting of Elvis Presley will be featured in Roger G. Taylor's forthcoming book 'Elvis In Art', comprising over 200 paintings and drawings of 'the king of rock 'n' roll', Elvis Presley. Each portrait is accompanied by quotes by Elvis himself or from people who knew him or worked with him.
Gibson Guitar Town London 2007- From June 28 for 10 weeks
More London
Tower Bridge, SE1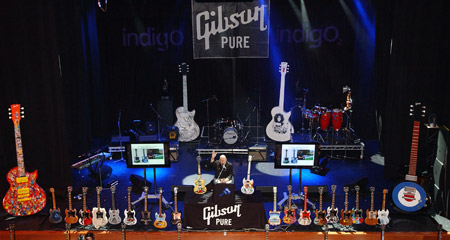 Thirty 10-foot free standing fiberglass Gibson Les Paul guitars have been creatively designed and hand painted by visual artists ranging from some of the UK's leading and established artists such as Sir Peter Blake and Gerald Scarfe. Each guitar will be signed by the associated music legend to authenticate and endorse their individual guitar.
Hand painted for legendary rocker Rod Stewart, Michael English's guitar features a blonde lady in the colours of Rod's favourite football team Celtic and is titled "You Wear It Well". The guitar can be seen around More London, SE1 from June 28th. Following a ten-week public display the guitar will be auctioned of for The Princes Trust, Nordoff-Robbins Music Therapy and Teenage Cancer Trust.
SMILER
Recently Michael spoke to SMILER The Rod Stewart Fan Club about his involvement in Guitar Town. "Then of course I met Rod at the opening when he signed the guitar. He said I did a fantastic job on it. Whether he was expecting a 10ft tall guitar and not a regular sized one I'm not so sure!" The full article can be seen at the link below ... http://www.rodstewartfanclub.com/about_rod/article/EElukyFkApLBkmbhhI.php
Modern Oils - 31 July – 25 September 2006
Clocktower Café
Katharine St.
Croydon, Surrey
Lifecycle - 23 June – 29 July 2006
Private View Thursday 22 June 5.30 – 8.30pm
The Gallery On The Green
395 A&B Limpsfield Road
Warlingham, Surrey
www.thegalleryonthegreen.co.uk
www.thegalleryonthegreen.co.uk/artists/mikeenglish.html
Pure Oils - 20 March – 27 March 2006
Pure Oils - 11 July – 16 July 2005
Fairfield Halls Sun Lounge
Park Lane
Croydon, Surrey
CR9 1DG